Future Boy! for Pocket PC
An interactive superhero comic book adventure game
Future Boy! for Pocket PC Publisher's Description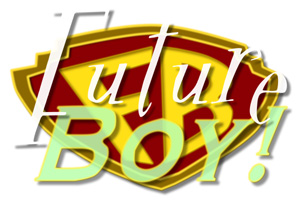 "**** Unique in every way...fresh, humorous...one of my most memorable gaming experiences all year."
AdventureGamers
"A return to the glory days...packed with humour...I found Future Boy! extremely refreshing."
The Globe and Mail
"From the opening puzzle...I was hooked."
Quandary

uture Boy! is an adventure game unlike any you've ever played. It's more than interactive fiction—it's an interactive comic book, combining the excellent writing, rich story, and sophisticated game world of the best classic interactive fiction adventure games with original art and a host of unique and unforgettable characters.
Who is Future Boy? He's an honest-to-goodness, leaping-tall-buildings-in-a-single-bound superhero, and the masked, cape-wearing protector of Rocket City. And you...
...are his roommate. But when Future Boy is captured by self-proclaimed criminal supergenius Clayton Eno, who is left to save Rocket City and everyone in it, without the benefit of superpowers, using only quick-thinking and a knack for overcoming obstacles in unexpected ways? You, that's who.
So check out some screenshots, watch the trailer, and play the demo.
Superheroing's his game. Adventure is yours.
More information, including additional screenshots, a trailer, and the full version of the game (for handheld and desktop), can be found at: http://www.generalcoffee.com/futureboy
About this product: This is a downloadable version of Future Boy! specially packaged for Pocket PC/Windows Mobile users. It does not include support for other systems. Please note that the demo version does not include optional graphics resources. For information on the full CD-ROM version for both desktop computers and handhelds, please see the Future Boy! web page.
Look for Similar Items by Category
Feedback